OPEN CALL FOR VOLUNTEERS
FOR THE ARTWORK PRODUCTION WORKSHOP
« Cocoon-Shelters! »
@VILLA KUJOYAMA / KYOTO CITY KYOCERA MUSEUM OF ART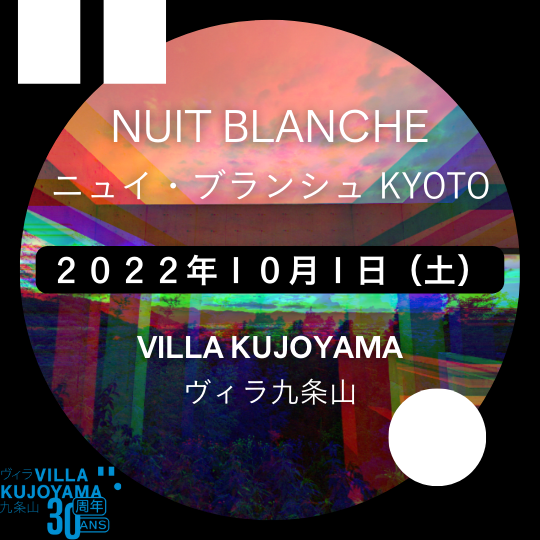 1. WHAT IS THE PROJECT "COCOON-SHELTERS!" ?
The objective of this project is to make a washi self-supporting installation using a technique that is similar to the honeycomb.
Faced with the planet's new ecological challenges, the climate emergency or the elements, Céline Wright, designer currently in residency at Villa Kujoyama (Kyoto) proposes to curl up in her washi cocoons as if in a nest, an igloo or a placenta and admire Mother Nature, furious or soothing.
In this perspective, Céline Wright wishes to work with those interested in making this handmade installation together during a workshop.
The realized work will be presented :
from October 1st to 10th, 2022 at Kyoto City KYOCERA Museum of Art,
as part of the main program of the Nuit Blanche KYOTO 2022
and the program of the 30th anniversary of Villa Kujoyama.
About the organizers
Nuit Blanche Kyoto is a pluridisciplinary art event organized by Institut français du Japon – Kansai and Kyoto City, as part of the friendship between Paris and Kyoto. For this 12th edition, the theme is "playgrounds" and the programmation will offer many French and Japanese art works.
Villa Kujoyama is a multidisciplinary artistic residence, welcoming since 1992 experienced and emerging creators wishing to develop a project related to Japan. It is now one of the most prestigious French artistic residences abroad.
Villa Kujoyama and Institut français du Japon – Kansai are both antennas of Institut français of Japan, cultural service of the French Embassy.
Learn more about Nuit Blanche KYOTO (page in JP)
About the installation
Several giant washi paper cocoons in which one enters or slips into to take refuge, to find comfort in the face of bad weather, climatic catastrophes.
Entirely « natural », the cocoons are made of diaphanous sheets of paper, translucent, light, solid like a second skin and bamboo for the structure, the skeleton.
From the outside, the cocoons diffuse a soft, uneven, living light, they invite you inside where they become a support for the diffusion of 360° images of storms, hurricanes, heatwaves, of a battered nature whose beauty can then be admired in complete tranquility.
This installation will associate the Japanese calligrapher Hiroshi Ueta for a performance and an art video projection.
---
2. WHAT IS THE WORKSHOP ABOUT?
The participants will have a session with Céline Wright (2021 Villa Kujoyama laureate) to learn how to work on the materials,
and then will be guided to perform following tasks (provisional), under her supervision:
Recovering the framework in bamboo with a plastic film and metal string
Adding washi papers on the plastic film. The glue used is 100% natural, made of rice
Removing the plastic film
Other tasks (This workshop might include some works on bamboo materials)
Due to the time required to make the cocoons as well as their final dimensions, the primary structure will be constructed at the Villa Kujoyama, and then disassembled in small parts to transport them to the museum. Once transported, all the parts will be reassembled onsite for the event.
ABOUT CÉLINE WRIGHT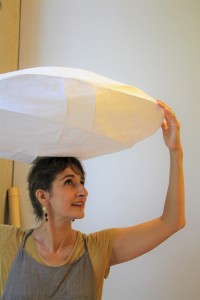 Céline Wright is an artisan-designer and draws her daily inspiration from washi paper, a material that reminds of her youth in Japan. After graduating from the textile section of the Ecole Duperré, she worked as a designer at Louis Vuitton, before giving birth to her first lights, which would later take voluminous shapes with extreme lightness. Céline Wright takes as much potential of this natural material as possible through experimentation, an indispensable step for her creations. Her technique, developed with the help of experts, makes possible the random and organic shapes of her sculptures, entirely handcrafted.
Since 1997, her atelier and its eponymous brand have been developing poetic approaches, as demonstrated in the installations of a cloud of birds (National Archives Museum, 2019), or the garlands of Nuages serie, best-selling products of her brand (Galeries Lafayette Maison in Paris, 2019).
Learn more about Céline Wright on her website.
Residency project: The washi in three dimensions
During her residency stay at Villa Kujoyama, Céline Wright continues to deepen her research of different washi papers and explore technical possibilities to create three-dimensional alveolar objects with robustness and finesse.
Learn more about Céline Wright's residency project (page in JP).
---
3. MORE INFORMATION ABOUT THE WORKSHOP
▪ Schedule (August to October 2022) / Venues▪
Artwork production workshop
>>Please indicate as many timeslots (more than 1 day) to which you can participate on this Google Form.
@Villa Kujoyama
Fri 02/09, 2pm-6pm
Sat 03/09, 9am-1pm / 2pm-6pm
Tue 13/09 – Sat 16/09, 9am-1pm
Tue 20/09 – Thu 22, 9am-1pm
Fri 23/09 – Sat 24/09, 9am-1pm / 2pm-6pm
The total number of participants will be around 5 persons per time slot for the production workshop.
In the case that the production at Villa Kujoyama is finalized earlier than expected, some sessions can be canceled. We will accordingly inform the participants for any change regarding the dates.
@Kyoto City KYOCERA Museum of Art (multipurpose room)
Mon 26/09, between 8am and 6pm (day of transportation from Villa Kujoyama to the museum. The time will be decided later)
Tue 27/09 – Fri 30/09, 10am–1:30pm / 2:30pm–6pm
AND
Tue 11/10, between 8am and 6pm (day of dismantling)
English/French with Japanese translation
▪ Clothing ▪
Please wear clothes that allow you to move comfortably (they can get dirty).
▪ Other conditions ▪
– you are more than 18 years old
– you are in good health
– you are used to creating with your hands (no need to be professional !)
– you are reachable by phone or by email
– each volunteer will receive 500 yen per day to cover eventual food or transport costs.
– please make sure to bring your own food and drinks if necessary. There are neither convenience stores close to Villa Kujoyama, nor café/vending machines in the building.
– you agree to appear in photos and videos taken by the project's staff during the workshop for the promotion of the project
▪ How to reach Villa Kujoyama ▪
Lien Google Maps 
Please note that Villa Kujoyama doesn't have any parking space for cars nearby (bike only)
Information : kansai.stg@institutfrancais.jp
▪ Registration ▪
Please fill out this Google form!