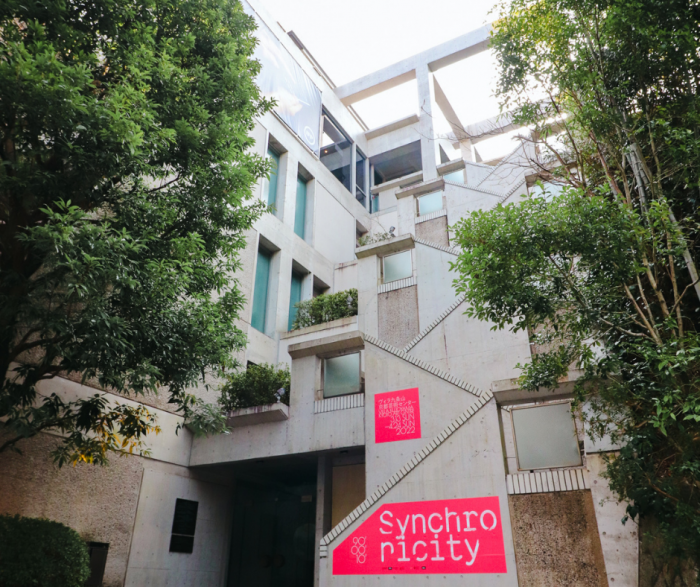 For its thirtieth anniversary, Villa Kujoyama is partnering with Kyoto Art Center to simultaneously present SYNCHRONICITY, from March 13th to April 24th, 2022.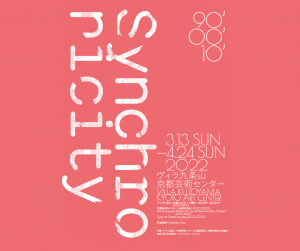 This anniversary exhibition considers, from multiple perspectives, three decades of fruitful artistic exchanges between France and Japan, and the resulting collaborations or creations which have enjoyed the support of the two institutions, established in Kyoto since 1992 and 2000.
For each decade, a selection of singular works by some of the 400 artists who have resided at Villa Kujoyama was made by Yukiko ITO (90s), Koichiro OSAKA (00s) and Marina AMADA (10s).
Based on an original idea by Charlotte FOUCHET ISHII, director of Villa Kujoyama, and Mami KATSUYA, artistic director of Kyoto Art Center, the three curators propose THE SPACE, a look at some of the most forceful artistic creations to have come out of these exchanges and their continued resonance today.
At the same time, THE WALL returns to key moments in the residency programme, to illustrate the influence which these two cultures and artistic movements have had since the 1990s.
SYNCHRONICITY
From Sunday, 13th March to 24th April 2022 at Kyoto Art Center & Villa Kujoyama
(Kyoto, Japan)
Free entrance
* Thank you to consider the different opening hours of both places before visiting the exhibition.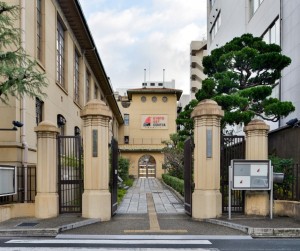 Kyoto Art Center
North & South Galleries
Opening hours
Every day, from 10:00 to 20:00
Adress :
〒604-8156 Kyoto, Nakagyo Ward, Yamabushiyamacho, 546-2
Contact :
Tel : 075-213-1000 / Fax : 075-213-1004
Email : info@kac.or.jp
Access
– 5 minutes walking distance from Shijo station (exit 22/24) on Karasuma subway line
– 5 minute walking distance from Karasuma station (exit 22/24) on Hankyu railway
– 5 minute walking distance from Shiko Karasuma Kytoto city bus stop ( 3, 5, 201, 203, 207)
Bike parking only available.
Website : www.kac.or.jp/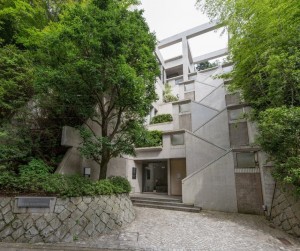 Villa Kujoyama
Opening hours
From wednesday to Saturday, from 12:00 to 18:00*
* Villa Kujoyama will be open Sunday, 13th March and Sunday 24th April, from 12:00 to 18:00
Adress:
〒607-8492 17-22 Hinookaebisudanicho, Yamashina Ward, Kyoto
Contact :
Tel : 075-761-7940

Access :
– 10 minute walking distance from Keage station on Tôzai line
Bike parking only available
Website : www.villakujoyama.jp/
Curators and artists selection
90' decade (1992-2001)
Place : Villa Kujoyama
Born in Hiroshima in 1952, Yukiko ITO is an independent curator. In 1994, she worked at the The International Center of Art and Landscape at Vassivière Island (France) as an assistant curator, and launched the same year the international exhibition in her hometown entitled « HIROSHIMA ART DOCUMENT », still active today.
She participated in the design of the exhibitions « Musée Nicéphore Niépce » and « Marie-Ange Guilleminot » at the Hiroshima Museum of Contemporary art in 2001 and 2005, at the « Tina B. – The Prague Contemporary Art Festival » (2008) or even the artist residency program hosted at the Palais de Tokyo (France), the Pavillon Neuflize OBC.
In 2015, in collaboration with Villa Kujoyama, she organized the « Rendez-vous » exhibition at the Onomichi City Museum of Art in Hiroshima prefecture.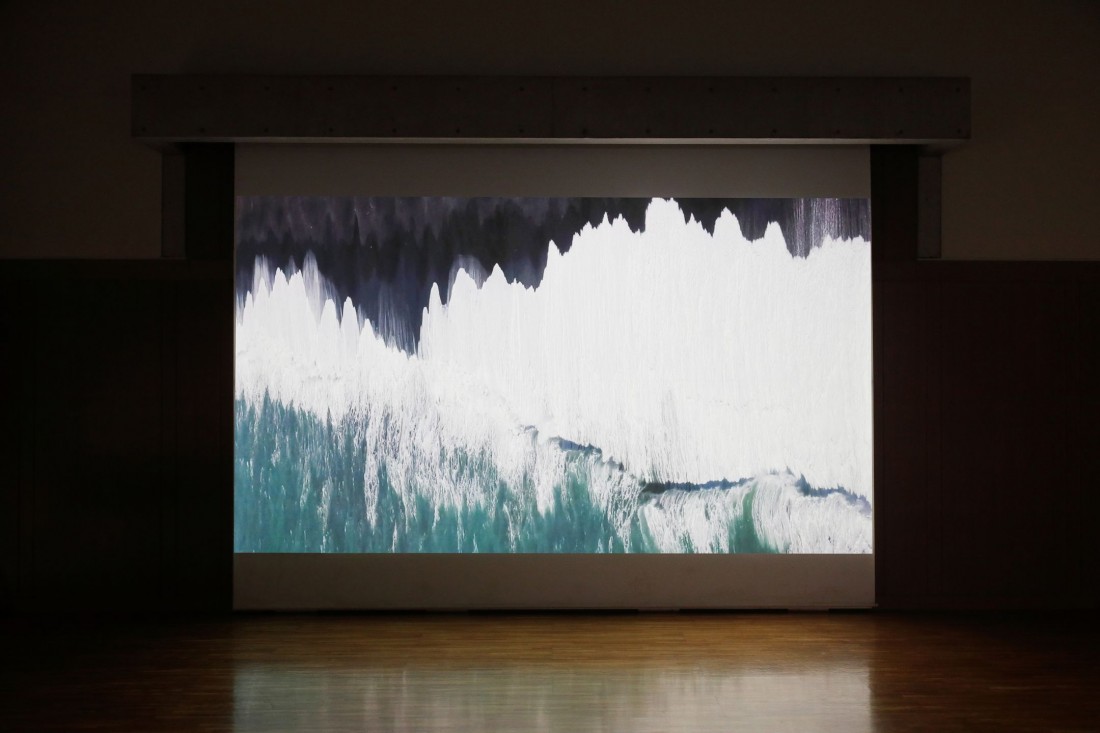 アンジュ・レッチア | Ange Leccia
《La Mer (The Sea)》(1991)
映像 | video-HD, 44min – crédit Maetani Kai
Ange Leccia shot his first film, Stridura, a reflection on television images, in 1980 on a 16mm camera. The mythology of film is present throughout his minimalist installations of industrial objects, which question the idea of the ready-made.
His work, which explores the essence of images and video, is shown internationally (Guggenheim in New York, Documenta 8 in Kassel, Skulptur Projekte Münster, HIROSHIMA ART DOCUMENT, Venice Biennial, National Gallery in Reykjavik, Musée d'Art Moderne de la Ville de Paris).
In 2001 Ange Leccia set up the Pavillon Neuflize OBC, the creative research lab at Palais de Tokyo in Paris, and was director until 2017, while continuing to teach.
Ange Leccia is Villa Kujoyama laureate in 1992.
Dominique PASQUALINI (Information Fiction Publicité)
ドミニック・パスクワリーニ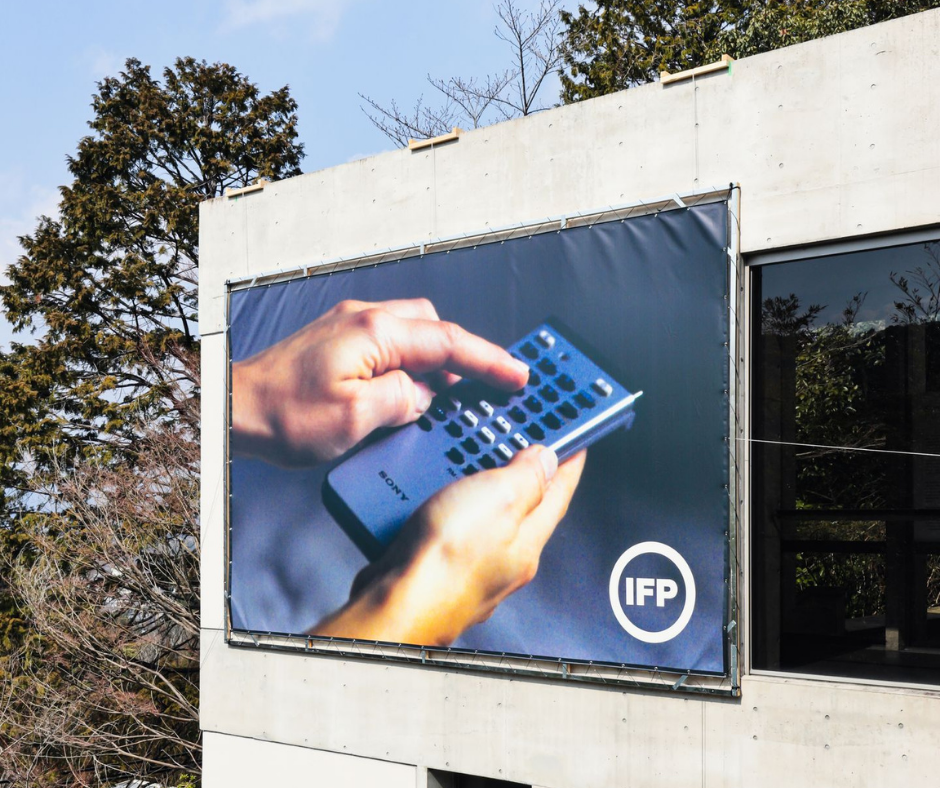 ドミニック・パスクワリーニ(Information Fiction Publicité )
Dominique Pasqualini (Information Fiction Publicité )
《REMOTE IFP》(2022)
インクジェットプリント、ターポリン | Print on tarpaulin – crédit Maetani Kai
Dominique Pasqualini co-founded, with Jean-François Brun, Information Fiction Publicité (IFP) in 1984; an art agency that would make a lasting impression on the international scene. His artistic itineracy would later take him to Firenze, New York, Kyoto and Paris. He now produces books and films, occasionally interspersed with rare musical performances.
He was involved in the launch of Radio Nova before opening, in 1999, the École Média Art in Chalon-sur-Saône (France), then the Motion Method Memory imprint at Presses du Réel. Since 2017 he has been the director of the Ecole des Beaux-Arts in Bordeaux (France) and, also in Bordeaux, co-directs the Pavillon residency (Observatoire de Floirac) with Ange Leccia.
Dominique Pasqualini is Villa Kujoyama laureate in 1992.
Jean-Luc VILMOUTH
ジャン゠リュック・ヴィルムート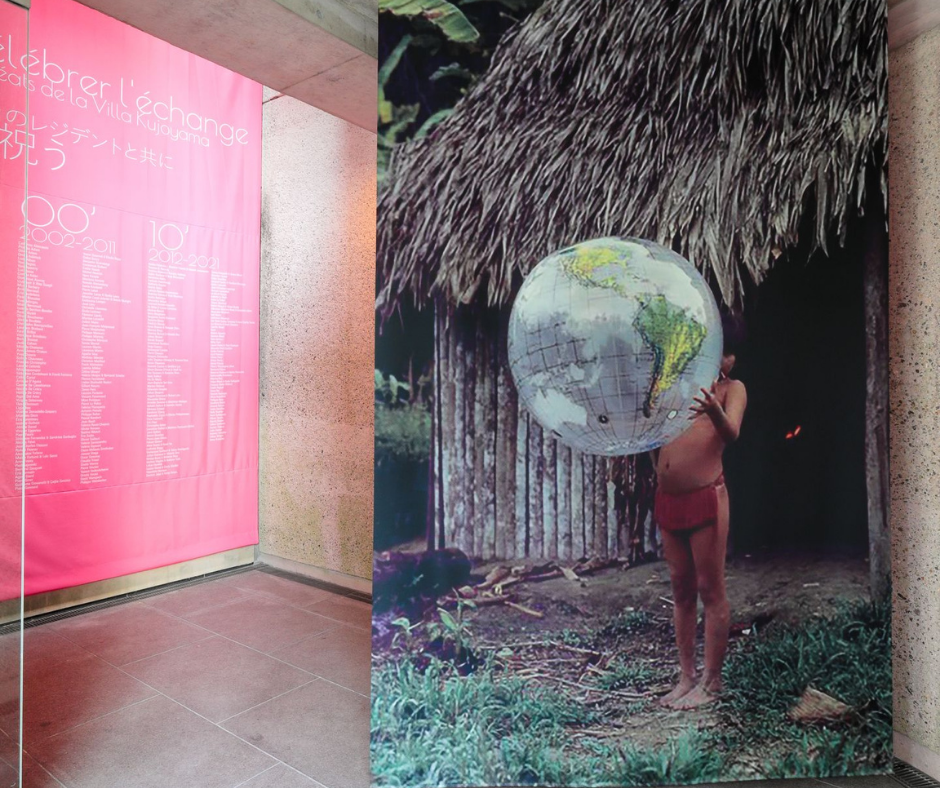 ジャン゠リュック・ヴィルムート | Jean-Luc Vilmouth
《Avec le monde / Pourquoi le Monde est-il devenu rond ?》
(1997)
作家のアーカイブより
Archives of the artist – crédit Maetani Kai
The works of Jean-Luc Vilmouth are fundamentals of sculpture which constantly reconsider the relationship between the viewer, the object and the context in which the object is viewed. His installations, videos and performances invent new ways of "living together".
Jean-Luc Vilmouth began teaching at the Ecole des Beaux-Arts in Paris in 1996 and, as of 2014, was a research director there. Following his first exhibition, in 1983, at the Kanransha Gallery in Tokyo, his work gave him multiple opportunities to return to Japan until his death in 2015 (Café Little Boy – Parasophia, Kyoto International Festival of Contemporary Cultures, NATURE AND ME / Eleven Dreams – Echigo-Tsumari Art Triennial, Times Science – HIROSHIMA ART DOCUMENT).
Jean-Luc Vilmouth is Villa Kujoyama laureate in 1997.
00' decade (2002-2011)
Place : kyoto Art Center South Gallery
Born in 1979, Koichiro Osaka is a curator, writer and the founding director of ASAKUSA. His recent curatorial projects include: « The Imperial Ghost in the Neoliberal Machine (Figuring the CIA) » at e-flux, (New York, 2019); and « Curse Mantra: How to Kill Factory Owners » at Para Site International Art Residency (Hong Kong, 2019).
He was awarded fellowships by Asian Cultural Council (2019), and Japan Foundation Asia Center (2020). Koichiro Osaka is currently an associate professor at Kyoto University of the Arts, and the program director of ICA Kyoto (Institute of Contemporary Arts Kyoto).
Pierre VINCLAIR
ピエール・ヴァンクレール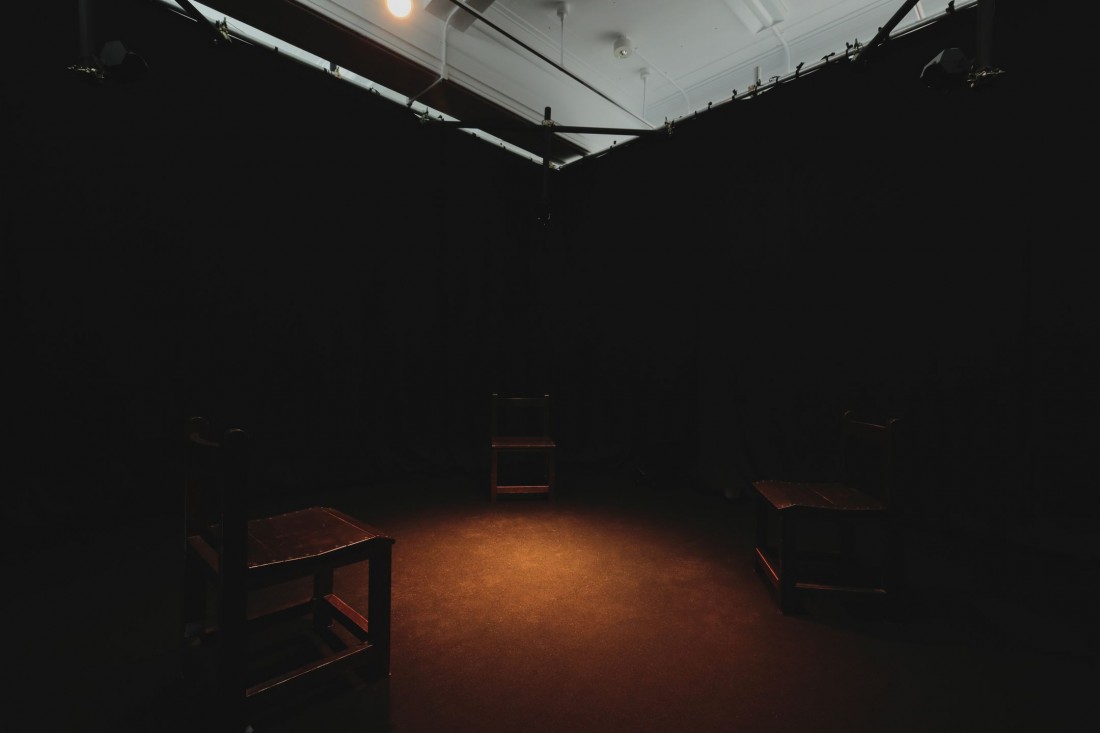 ピエール・ヴァンクレール| Pierre Vinclair
《アンダーワールド・ギャラリー》
Underworld Galleries
Pierre Vinclair, La Sauvagerie, Paris/Escampes, Editions Corti, coll. « Biophilia n°19 », 2020
Sound Design: Krikor Kouchian
Recitation: Valentin Gabelier, Yu Tanaka, Keiko Yamaguchi
Poem: Translated by Kyoka Kawai
サウンドインスタレーション | Sound installation, 45min. – crédit Maetani Kai
Pierre Vinclair is the author of poetry books and has a particular interest in the different forms of writing, from song to narration, from social to religious. He also engages in critical reflection.
This can take the form of essays on the work of other poets as much as reflections on his own conditions of composition and reception. Pierre Vinclair has published some twenty works since 2007 (novels, trilogies, essays and a group of sonnets) and translates poetry from English and Chinese.
Having spent a dozen years in Asia, travelling to Japan, China and Singapore, he is now co-director, near Geneva, of the journal Catastrophes and is editor of the S!NG collection, published by Le Corridor Bleu.
Pierre Vinclair is Villa Kujoyama laureate in 2010.
10' decade (2012-2021)
Place : kyoto Art Center North Gallery
Specialized in organized chaos, Marina Amada is an independent curator and art project producer, active in France and Japan. Most recently, she curated for the citywide public art installations «NOÛS» by 63 artists during the pandemic lockdown (Nice, 2020), «Fill in the Blanks» by Kazuma Obara (KYOTOGRAPHIE 2021), «Story of a Bridge between Two Worlds» by Marie Liesse (KYOTOGRAPHIE 2020 & National Museum of Ethnology, 2021), «BHT» by Joel Hubault, Ricard Mosner and others (Paris, 2019), as well as served as the chief operating officer of the 7th edition of KYOTOGRAPHIE.
She received B.A. from Keio University, M.A. from Institut d'Études Supérieures des Arts, and international business experiences from 11 years at a financial firm.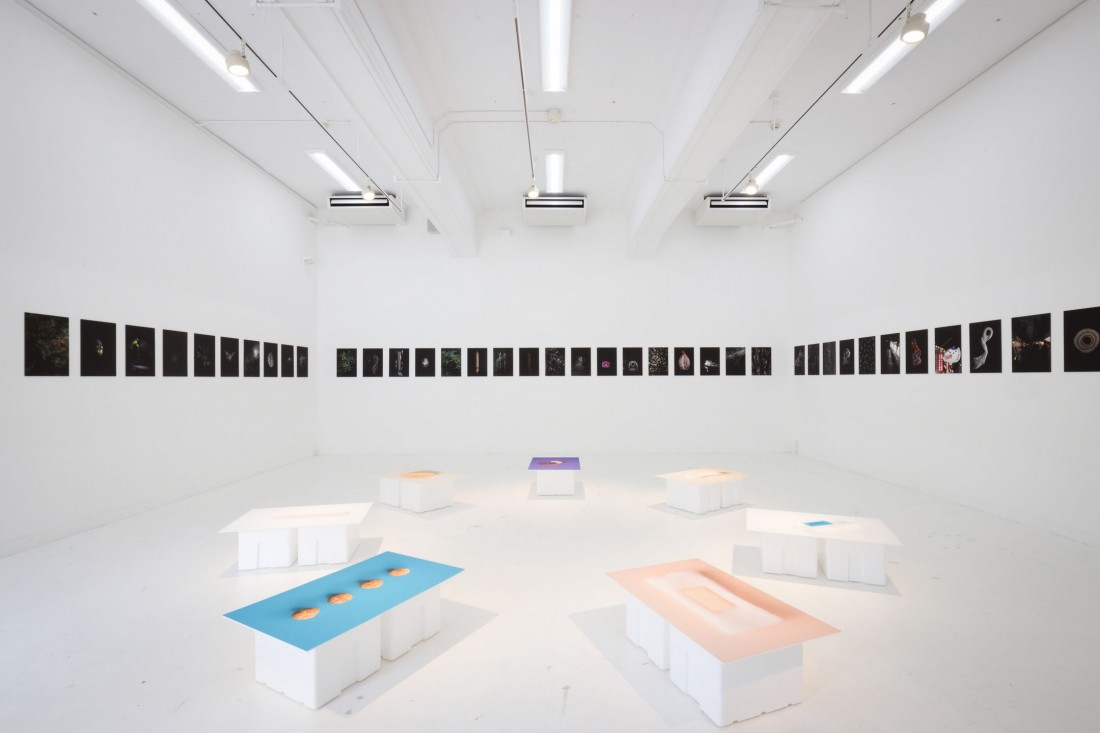 フェリペ・リボン&関口涼子 | Felipe Ribon & Ryoko Sekiguchi
《食物の影》
L'Ombre de la nourriture
Dark Side of Food
仏文翻訳:シルヴァン・カルドネル
Text translated by Sylvain Cardonnel
写真、テキスト | photos, texts – crédit Maetani Kai
Felipe Ribon is a Franco-Colombian designer and photographer. He was awarded the City of Paris Grand Prix de la Création in 2009, as well as the Public's Prize at Design Parade 04 in Hyeres (France).
His work materialises the equation that links design, hygiene and environment. In 2012, with the support of the Audi Talent Awards, he produced his first solo show. This enabled him to develop his explorations of sensory perception. His research into impalpable phenomena now takes the form of installations in which objects and photographs cohabit and mutually inspire to explore multiple paths of perception.
His Osmos fragrance diffuser was awarded the 2016 Prix Liliane Bettencourt pour l'Intelligence de la Main.
Felipe Ribon is Villa Kujoyama laureate in 2016, in duo with Ryoko Sekiguchi.
Ryoko Sekiguchi is a Japanese author and translator. She has published more than a dozen books in French and Japanese. Among her recent works stand out "Nagori" (P.O.L in 2018), "Catastrophe Eve" (Akashi Shoten, 2020) or her translation "Two People" (Simone de Beauvoir, Hayakawa Publishing, 2021).
She also collaborates with other artists, like the artist Christian Boltanski, the composer Laurent Durupt or the chief Sugio Yamaguchi. In 2021, she received the order of Culture and the Arts from the French government.
Ryoko Sekiguchi is Villa Kujoyama laureate in 2016, in duo with Felipe Ribon.
Organisers : Villa Kujoyama, Kyoto Art Center (Kyoto Arts and Culture Foundation)
With the support of Fondation franco-Japonaise Sasakawa and Institut français
Special thanks to Horiuchi Color ltd
Artistic directors : Charlotte FOUCHET ISHII (Villa Kujoyama executive director), Mami KATSUYA (Artistic director of Kyoto Art Center)
Design : y/m design
General coordinator : Satsuki KONOIKE (Villa Kujoyama)
Special thanks