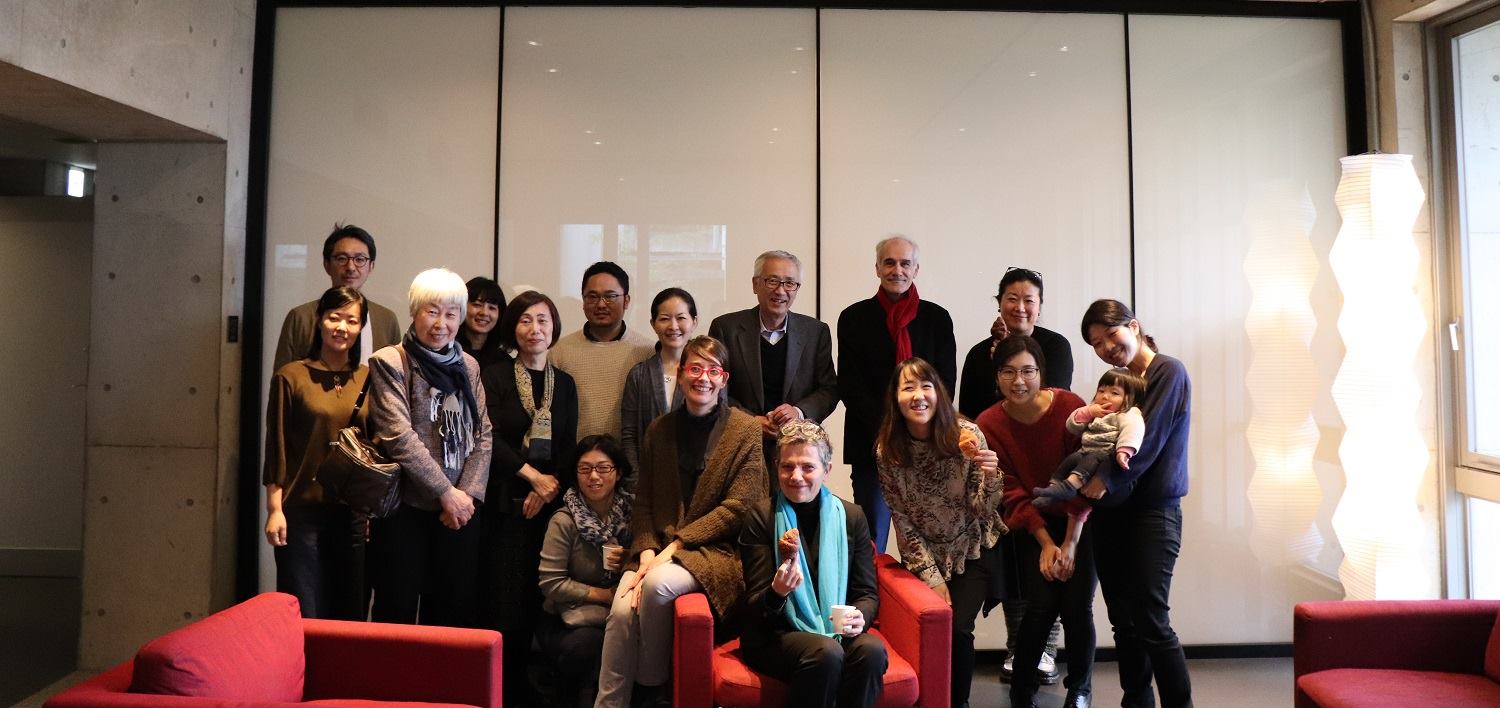 For 2019, the ResArtis meeting will take place in Kyoto. On February 7, Villa Kujoyama will host a satellite event called Networks+Artworks.
Navigating options around residency opportunities as an artist, small organization, or independent can be overwhelming. Where is the best place for my practice? Do I need to go internationally? How am I funded, how are residences funded? Can you help me apply? Is there any support? Who can I talk to? What do I do?
For this special event, the Villa Kujoyama in collaboration with the Dutch Embassy presents a series of short and dynamic presentations which cover a variety of experiences and opportunities. Following the informal live 10 minute talks registered participants will have the opportunity to meet and interact directly with professionals from Japan along with international experts in an informal networking/Q&A session. This session is lead by a multidisciplinary group, made up experts from organizations, residency start ups, artists, and residency directors, providing the occasion to communicate across disciplines and borders.
To conclude the evening participants can continue to network and build relationships in the official reception hosted by the Villa Kujoyama and the Dutch Embassy.
We welcome anyone who is interested in the exciting and diverse world of global residency programs, whether it be to become a resident, or create a residency.
Speakers :
1. Marie Fol & Heidi Vogels
Marie Fol has been working in the field of cultural mobility since 2010, first for the artist-in-residence information platform TransArtists (2010-2012) and then for DutchCulture, centre for international cooperation (2013-2018) where she continued to manage the TransArtists platform. Marie Fol has extensive experience in complex project management within a national institute such as DutchCulture, as Head of the Dutch Creative Europe desk, as well as in international settings, specifically in the coordination of European culture cooperation projects (ON-AiR, Green Art Lab Alliance). She is regularly invited as expert on artist residencies in Europe, and facilitates trainings for artists (mostly in visual arts, performing arts, music) and cultural professionals (producers, cultural managers) into the practical aspects of mobility such as visa, taxation and funding opportunities. She was delegated by the Dutch government as expert on cultural mobility in the 2016 Stock-Taking meeting organised by the European Commission.
Marie Fol is board member of the cultural mobility information network On the Move. 
On the Move (OTM) is a cultural mobility information network with 40 members in over 20 countries across Europe and internationally. Our mission is to encourage and facilitate cross-border mobility and cooperation, contributing to building up a vibrant and shared European cultural space that is strongly connected worldwide.
Our aims are to:organise, coordinate and improve a cultural mobility information service that is free, transparent, accurate and user friendly, coming from an increasing number of sources and reaching an ever widening audience.
– promote a concept of mobility that is respectful of social standards and environmental protection and that promotes cultural diversity and intercultural dialogue.
https://www.facebook.com/onthemove.OTM
https://twitter.com/onthemoveotm
Heidi Vogels is a visual artist and filmmaker. She works in long term research-based projects and is currently in the final stages of realizing a documentary film in Fez, Morocco. She is also the coordinator of AIR Platform NL since its beginning in 2013. TransArtists' AIR Platform NL is a platform for the mutual exchange of information and experience between AIR organisations in the Netherlands and Flanders, connects AiR initiatives with (international) networks and platforms, and offers practical advice concerning AIR programs to art professionals, funders and policymakers.
www.transartists.org/airplatformnl  
DutchCulture|TransArtists combines and shares knowledge and experience on artist-in-residence programmes and other international opportunities for creative professionals to temporarily stay and work elsewhere. We offer you all about facts, use and value of international artist-in-residence opportunities. Our tools and services are developed from the artists' perspective. Our goal is to make the enormous worldwide residential art labyrinth accessible and usable to artists through our website, workshops, AiR collection, research and projects. To do this, we usually cooperate with a wide range of partners in all world regions. We are part of DutchCulture – Center for International Cooperation, based in Amsterdam, the Netherlands.

2. Mizuho Ishii (ARCUS Project)
Mizuho Ishii graduated from the Tokyo University of the Arts, specializing in design at its Graduate School of Fine Arts. After her pursuing her own artistic practice, and running an artist-in-residence program(2007-08), she assumed her current post as coordinator in 2012. 
ARCUS Project aims to support promising artists who engage in creative activities across the world, and also, to promote the Ibaraki area through art. This project started in 1994 as a test artist-in-residence program that was an initiative of the Ibaraki Prefectural Government. By collaborating with emerging artists, curators, and prospective art managers, ARCUS Project connects the Ibaraki area with art, and encourages residents of the city of Moriya to voluntarily participate in various art projects that include exhibitions, workshops, lectures, and film screenings. 

3. Shintaro Tokairin (Arts Initiative Tokyo [AIT])
Shintaro Tokairin joined AIT in 2015, and as a project manager, he has been facilitating AIT's residency programs in collaboration with various international institutions and foundations. In recent years, he also joined at a contemporary art gallery based in Tokyo to take further and broad perspectives in the art world.
Arts Initiative Tokyo [AIT] is a small non profit arts organization based in Tokyo Japan. Our ethos is about nurturing radical bottom-up programs to disseminate and encourage art in new ways for broad audiences. We achieve this through an independent education program (MAD – Making Art Different), tailor-made residency programs, and curatorial/consultancy projects partnering with business.

4. Villa Kujoyama
Villa Kujoyama is one of the most important French cultural institution abroad alongside Villa medici in Rome and casa de Velasquez in Madrid. As the only artist-in-residence program administered by the French government in Asia, Villa Kujoyama is an establishment part of the cultural cooperation network of the Ministry for Europe and Foreign affairs. It is operated by the Institut français du Japon and is supported by its main patron the Bettencourt Schueller Foundation, as well as by the Institut français.
Since its creation in 1992, it has hosted several hundred of confirmed as well as emerging artists and designers with the aim of encouraging creativity through the convergence of French and Japanese cultures. As a cross-disciplinary tool fostering exchange, Villa Kujoyama aims at strengthening the intercultural dialogue but also between creation and know-how.

5. Julie Stephen Chheng (Resident at Villa Kujoyama in 2016)
Julie Stephen Chheng is a Paris-based designer and author. A graduate from the "Arts décoratifs of Paris" school, She is engaged in projects in the field of publishing and visual arts that blend state-of-the-art technology and paper. Installed at Volumique studio, she is the author of several books and applications : Poems in Pieces, 'The Aventures of a Village', 'Rain at noon', 'The Postal train'. In 2014, she did an Art Residency with the Hong Kong Arts Center. In 2016, she was artist-in-residence at the Villa Kujoyama in Digital Arts in Kyoto. In 2017, she presented Uramado at the Musée de la Chasse et de la Nature, « Folded, Cut and Off the Wall « , a touring exhibition organised by Le Salon du livre jeunesse de Montreuil and 18 windows displays for Hermes Tokyo. She is now working on KAYAK AR, a story with augmented reality stickers.
Speed networking participants :
– Marie Fol & Heidi Vogels
– Mami Odai (Artists in Residence, Sapporo Tenjinyama Art Studio さっぽろ天神山アートスタジオ by AISP)
– Shintaro Tokairin, Naoko Horiuchi (AIT)
– Mizuho Ishii, Yumiko Fujimoto, Aruma Toyama (ARCUS)
– Catherine Lee (台北國際藝術村 Taipei Artist Village)
– Julie Chenot (The Camargo Foundation)
– Leonard Sprüth (Goethe-Institut Villa Kamogawa)
– Charlotte Fouchet-Ishii (Villa Kujoyama)
– Shinya Yamaki (京都:Re-Search)
– Tatsuhiko & Hiroko Murata (Youkobo Art Space)
– André Baldinger (Typographer – Currently in residency at Villa Kujoyama)
– Christophe Galati (Game designer – Currently in residency at Villa Kujoyama)
From 17:30 to 22:30 at Villa Kujoyama
Free event. Registration recommended.
If you want to attend the event, please register at https://goo.gl/forms/wVzPM2Lu1zlk686l1